Metals Tendencies Report
Is the market getting better or worse? Validate your instincts about market trends against the collective opinion of other service center executives
View Report
Watch this introductory video to learn about the value of the Metals Tendencies Report and how to use this report to improve your business.
Running a business on intuition can only take you so far.
That's why MSCI aggregates the opinions of service center leaders across North America into a complete picture of what's expected for the next three months.
Service center executives who complete the survey receive the report via e-mail on the first day of the month. Non-responding service center executives and all other members can download the report one week later.
The MSCI Metals Tendencies Report is a monthly opinion survey conducted by MSCI's economics consulting firm. This professionally prepared survey asks senior service center executives for their judgment about a consistent set of industry conditions over the next three months:
Will shipments be up or down?
What are their plans for ordering more material?
What are their company's hiring plans?
We created the Metals Tendencies Report to provide our members with an early indicator of where service center executives believe the market is going, so members can validate their company's instincts about market trends against the collective opinion of industry leaders. We invite more than 1,400 service center company executives across North America to take part in an opinion survey, and we work with respected economic consulting firm McCoy Scott & Company to gather the information, compile it and present it. Metals industry leaders are asked specifically for their expectations on shipments and product on order from suppliers for Carbon and Alloy, Stainless, Aluminum, and Copper and Brass material. We also ask about their expectations on future change to employment levels. Results are tabulated for both the U.S. and Canada reflecting different economies and are available by the first of the month.
The Metals Tendencies report can be used to benchmark your opinion against that of the collective opinion of the participating executives and to glean information about future service center market conditions.
Download This Report
Frequently Asked Questions
How should I interpret this report?
The questions in the survey ask respondents to express their outlook for the next three months as "significantly above", "above", "no change", "below" or "significantly below" current conditions.
The data in this report is expressed as a diffusion index. A positive diffusion index suggests that the balance of the responses is for better conditions in the future. A negative diffusion index indicates the opposite. How far the Index is above or below zero suggests the degree of consensus regarding movements in that direction.
Bars above zero indicate a tendency for better conditions in the future. A higher bar indicates more respondents agree with the sentiment.
The zero line indicates equally positive and negative opinion.
Bars below zero indicate a tendency for worse conditions in the future. A lower bar indicates more respondents agree with the sentiment.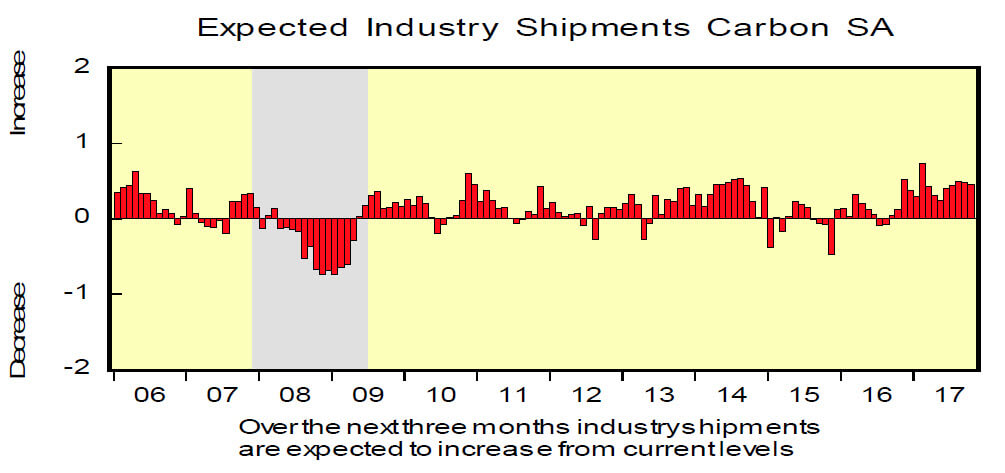 May I see a sample report?
What is the cost of the report?
This report is downloadable for free by all member companies.
Which members have free access to this report?
All MSCI members have free access to this report!