Program Overview
An essential understanding of the legal landscape will help you recognize high-risk corporate behavior, while providing certainty and stability, and serving as a mechanism to resolve disputes. Whether your organization is based in, or does business with, the United States, you'll develop the legal literacy required to operate within its complex regulatory landscape. A background in law is not required or expected to successfully complete this program.
R. Mark McCareins, who has worked with the metals industry and has taught business law at Kellogg School of Management for over 30 years, will instruct eight modules over two months. Using plain English rather than legalese, each module will build your business expertise as the potential impact of these principles on your organization is discussed. Key benefits include:
Understand Business Law
Gain essential legal knowledge to guide your business's strategic direction, mitigate risk and make better-informed leadership decisions.
Enhance Your Skill Set
Learn how to interpret the many laws and regulations that make up the complex U.S. legal landscape.
Develop a Strategic Approach
Create a personalized legal strategy playbook to identify how the law might be used as a powerful business tool for developing offensive and defensive business strategies.
Who Should Attend
Owners, managers, and anyone who requires a fundamental understanding of U.S. business law
Executives looking for beneficial insight into the laws that will impact their business
Professionals looking to grow in your current role, take on more responsibility, or improve your legal literacy
Questions?
Contact Monique Combs
mcombs@msci.org
847-485-3004
Watch the short video and learn why this unique program is pertinent for business owners, executives, and managers.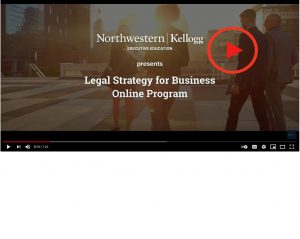 More About the Program
Course Outline
Module 1 – Legal Systems and the Role of Regulation
Explore the application of U.S. laws both locally and globally, the role of the various courts and an overview of dispute resolution.
Module 2 – Agency and Employment Law
Discover the circumstances under which a business is legally liable for the wrongful acts of its employees.
Module 3 – Tort Law: Establishing Liability for Civil Wrongs
Examine the basic requirements for a claim under tort law and the potential defenses to it.
Module 4 – Leveraging Contract Law for Commercial Success
Investigate the fundamentals of commercial contracts and key business considerations.
Module 5 – Antitrust and Competition Law
Examine the nuances of antitrust law and global competition law.
Module 6 – Developing an Intellectual Property Strategy
Discover the business value of patents, trademarks and copyrights.
Module 7 – Corporations, LLCs, Partnerships and Other Business Entities
Review various business structures and the circumstances in which the protection they offer might be lost.
Module 8 – Corporate Governance and the Duties of Officers and Directors
Explore the fundamentals of good corporate governance and the fiduciary duties of directors and officers.
Faculty
R. Mark McCareins
General Counsel of  Metals Service Center Institute and Academic Director; Clinical Professor of Business Law, Strategy Department, Kellogg School of Management at Northwestern University
R. Mark McCareins is a Clinical Professor of Business Law in the Strategy Department of Kellogg School of Management where he teaches courses on Antitrust  and Competition, Business Law and Non-Profit Governance and Organization. Mark is also Co-Director of the JD/MBA program at Kellogg. Mark received a Student Impact Award for his teaching of Business Law in the fall quarter of 2016 and served as the Co-Chair of the Kellogg Vertical Merger Conference in January, 2019.
Mark practiced law as a senior partner in the international law firm of Winston and Strawn LLP for thirty-three years, retiring effective February 1, 2014. At Winston, Mark was co-chair of the firm's global competition practice and served in a number of management positions within the firm and the litigation department. Mark's trial practice concentrated on antitrust, intellectual property and unfair competition issues. Through 2014, Mark was ranked as one of the leading antitrust and commercial litigation lawyers in Illinois, the United States and globally. Mark is a member of both the Illinois and California bars.
Mark currently serves as the General Counsel of North America's premier metals trade association, the Metals Service Center Institute. A recognized national expert in antitrust and competition matters, Mark has been quoted in a variety of publications this past year including Fortune, Law360, The Hill, Yahoo Finance, MarketWatch, The Washington Times,  and The New York Times.
Mark has authored or edited approximately forty articles or books on antitrust, competition and intellectual property matters. He served in many leadership positions in the antitrust section of the American Bar Association, most recently (January 2020) being re-appointed to the ABA Antitrust Section Leadership as a Liaison from the ABA Intellectual Property Section. He formerly served as  Chair  of the Antitrust Section Council of the Illinois State Bar Association. In addition, Mark is also a former Chair of the Antitrust Committee of the Chicago Bar Association, where he moderated panels on such topics as the corporate criminal leniency program and the use of experts in antitrust cases. He received a Service Award from the Chicago Bar Association in June, 2017 for his role as chair of the Antitrust Law committee. He  is also a fellow of the American Bar Foundation. Mark also serves on the Legal Advisory Council of the National Association of Manufacturers (NAM).
Mark is also very active in community affairs having served as President and Chairman of the Board of Lawrence Hall Youth Services, a Chicago based child welfare agency, through June, 2017 at which time Mark was elected as a Life Trustee. He also sits on the Board of Catholic Charities. Mark is also involved in a number of alumni groups at Washington University including sitting on the Chicago Regional Cabinet and the Law School's national alumni council. Mark has received distinguished alumnus awards from both his undergraduate alma mater Northwestern University as well as Washington University where he served as Editor in Chief of the law school's Law Review. He also received the President's Volunteer Service Award from the President's Council on Service and Civic Participation in 2008.
FAQ
What is the learning experience?
Legal Strategy for Business integrates rich, interactive media – such as videos, infographics, and e-learning activities – along with traditional didactic components such as study guides (program notes). There will also be opportunities for collaborative learning through discussion forums.
What is the program format?
The program consists of 8 modules delivered over 2 months online. Learners can expect to dedicate 5-7 hours per week to watch videos, complete assignments and participate in discussions. Each module is opened weekly, allowing a flexible but structured approach to learning, with quizzes throughout to assess your learning process. Learners may choose to engage with the program module all in one sitting or in smaller segments of time throughout the week. While the modules do not close, access to assignments is closed each week.
Could a learner choose to opt out of some topics?
No. This is an online program in which a topic module is introduced each week and the learner is expected to watch the video lectures, participate in the live webinars, complete the exercises/activities and take the mastery quiz at the end of each week to progress to the subsequent week's topic.
How much time is allocated to complete assignments?
The due date for submitting assignments is typically within 7 days of the module opening, but can be as long as 14 days, depending on the scope of the assignment. However, learners may request deadline extensions to accommodate for business and personal conflicts that may arise during the program timeframe.
Can participation in this program be counted as credit toward a degree?
No, this is a non-degree program. Each participant receives a certificate of completion at the end of the program. This certificate does not count as credit toward a degree.
What are the requirements for accessing the program?
Participants will need the following to access the Business Law for Leaders program:
Valid email address
Computing device connected to the internet (Mac/PC/laptop, tablet or smartphone)
The latest version of your preferred browser to access our learning platform (though not required, we recommend using Google Chrome when accessing the Online Campus for optimal experience)
Microsoft Office Suite (PowerPoint, Word, Excel) and PDF viewer to access content such as documents, spreadsheets, presentations, PDF files, and transcripts
Additional software and resources may be required for certain programs – this will be communicated upon registration and/or at the beginning of the program
PLEASE NOTE: Google, Vimeo and YouTube may be utilized in the program delivery.
Does the program offer a certificate?
Yes. Participants will receive a digital certificate of completion from MSCI and Kellogg at the conclusion of the program.
Who is 2U, Inc./GetSmarter and what is their relationship with Kellogg Executive Education?
Kellogg Executive Education is partnering with GetSmarter, a brand of 2U, Inc., an online education provider, to develop and deliver this program. By working with 2U, Inc./GetSmarter, we are able to provide broader access to Executive Education, beyond our on-campus offerings, in a collaborative and engaging format that is consistent with Kellogg's standard of quality.